SpeakingClinically provides instant access to a growing collection of multimedia case studies of diseases, captured through the voices of real patients. Our website showcases a 20-year collection of 900 patient interview films that can be accessed from a phone, tablet or computer.
The ability to make diagnoses by listening to patients describe their symptoms is one of the most fundamental and satisfying skills in medicine. SpeakingClinically aims to allow anyone in or connected to the field of medicine the opportunity to listen to real patient's talk about their diseases to help further their understanding and practise.
Cases are indexed by and can be accessed through:
the disease itself
the principal body system affected by the disease
symptoms
clinical signs exhibited by the disease
As well as video content, each case is also accompanied by a synopsis and a link to further, theoretical reading.
Our patients talk frankly and openly about their medical conditions. The material is entirely unrehearsed and the camera handheld so that nuances of communication are captured in detail. Each patient film will include a summary of the case and a link to more information about the condition.
If you are studying at one of our partner medical schools, you can access the full library of films for free – create your Speaking Clinically account via the invite email we sent to you.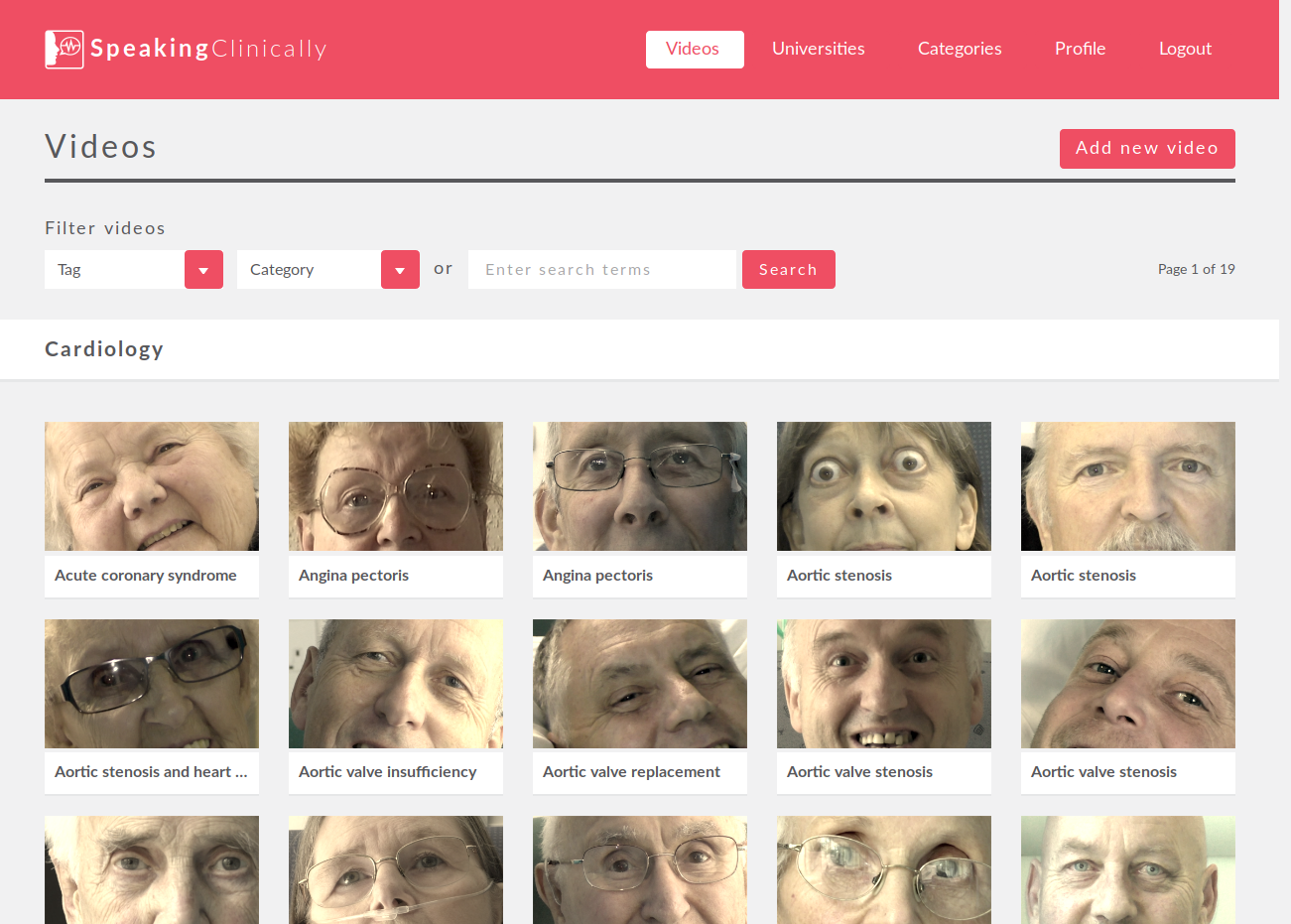 The video library:
covers a wide variety of specialties and will fit with whatever your interests are, along with many more that we don't see very often and are unlikely to come across in hospital
gives you the patient perspective about their illness (and associating the illness with a patient's face will help you to remember details of their case – useful for revision)
high quality videos and can watch on the go.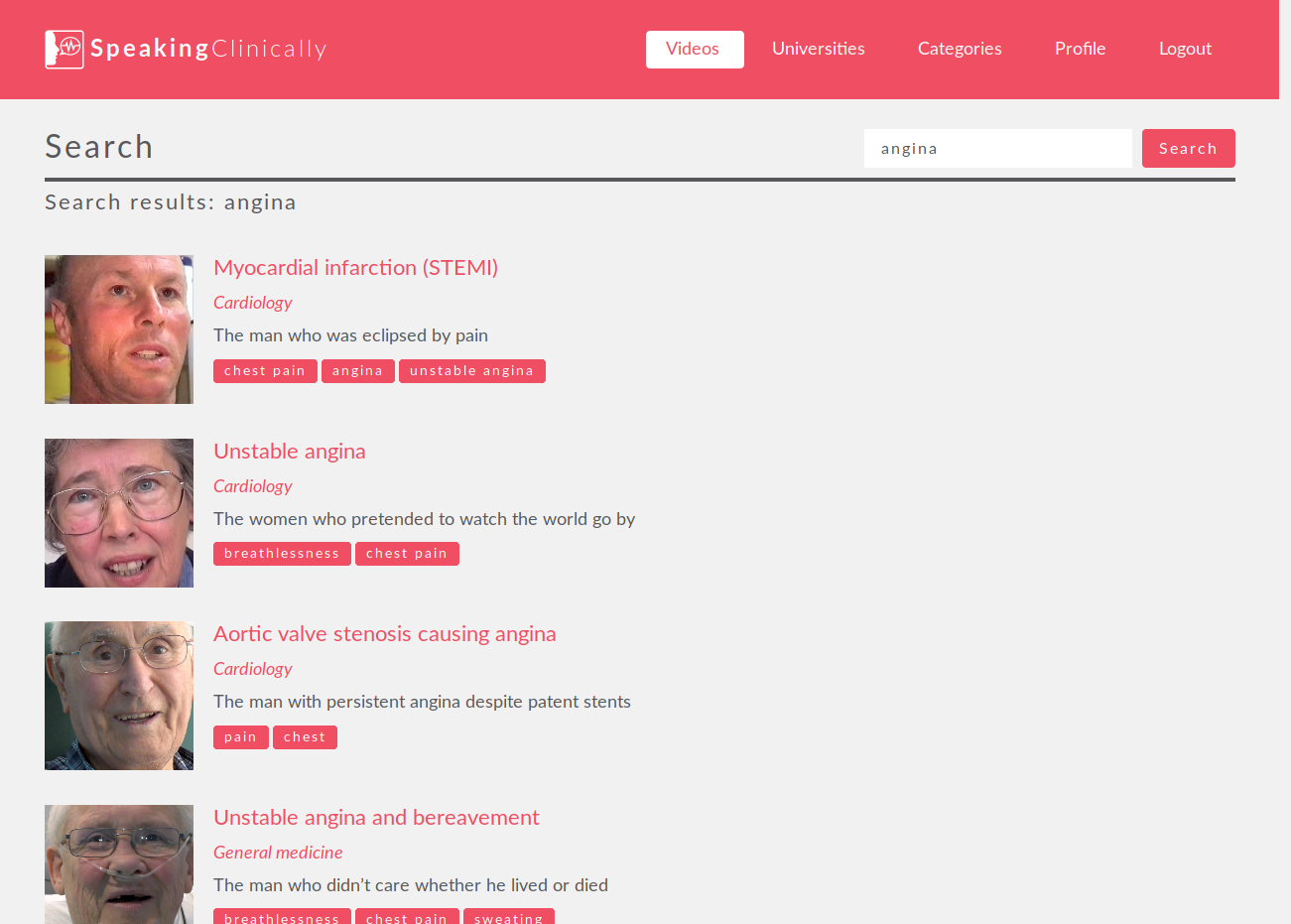 The site will be useful to you in a variety of ways, and your medical school will be providing access for clinicians and academics who may wish to use these videos in your teaching or to help you revise.
We are also looking for students to help us make new films for the site – contact Professor Andy Levy (andy.levy@bristolmedicalpro.com) for more information.
Please contact your medical school for all student queries relating to Speaking Clinically.
The films available in SpeakingClinically are used exclusively for teaching and research purposes only, and fall within the GDPR exception for endeavours serving the public interest.
Types of data we collect
Website cookies
SpeakingClinically only uses cookies that are essential to provide you with services you have requested. For example, these include the cookies that make it possible for you to stay logged into your SpeakingClinically account. SpeakingClinically does not use cookies to track your usage of the website.
Amazon Web Services
SpeakingClinically uses Amazon Web Services to host and deliver its video content. Refer to https://aws.amazon.com/compliance/gdpr-center/ for more information on how Amazon ensures that its AWS services are GDPR compliant.
Email addresses
We use your name and email address to send you a SpeakingClinically account invitation. We obtain these details from your University if they have purchased an institution licence. An account invite will be issued for every user's details that are uploaded to the site. Each institution manages their own accounts. They can potentially arrange the accounts into groups, such as year or placement cohorts. This information would then be stored in SpeakingClinically.
In other instances, we may have been in direct contact with you regarding SpeakingClinically, and may have used your details to send you an account either on a trial basis or to demonstrate some of the content to you.
We do not use a mailing list for SpeakingClinically, nor do we issue a newsletter. You will be contacted through your University regarding SpeakingClinically if they have purchased an institutional licence – please refer to their privacy policy in this instance. If you are an external or trial user then we may use your details to contact you directly by email. You will not be subscribed to a newsletter.
Third parties
We do not share your data with any third parties.
Access to your personal information
You are entitled to view, amend, or delete the personal information that we hold. Email your request to your University if you were given an account through an institutional licence. Otherwise, contact Bristol Medical Pro at andy.levy@bristolmedicalpro.com with your request to either view, amend or delete your personal data.
Changes to this privacy notice
This privacy notice was last reviewed on 25th May 2018. It will be periodically reviewed.
It would not have been possible to create this educational resource without the goodwill and good humour of the many people who allowed their stories and images to be collected over the years. 'Speaking Clinically' is dedicated to their generosity.
Please note that although the information on this site is true to the best of my knowledge, I assume no legal or moral responsibility for the accuracy, completeness, or usefulness of any information contained herein. In no event will Bristol Medical Pro Ltd or Professor Levy be liable for any decision made or action taken in reliance upon the information provided through this app. All of the patients featured have read the following information and answered the following questions before giving their consent:-
When teaching medical students, doctors often need to use photographs, video recordings, and other images to demonstrate what a particular illness looks like and how to treat it. This helps medical students and graduates to understand the medical problems suffered by many of the patients they will meet during their training and after they have qualified as doctors. With your consent, we would like to make use of a video recording which refers to you and your treatment. When the images are shown, you will never be referred to by name and every effort will be made to ensure confidentiality and privacy. If you are happy for us to use your image in teaching student doctors, we would like you to confirm that you have given us your consent by completing the accompanying consent form. Please note that you do not have to give your consent. If you do not wish to give your consent, it will not affect the quality of care you will receive in any way. If you need more information, you can talk to the person who gave you this information sheet; they will do their best to answer any questions you may have. Thank you for taking the time to read this information sheet, and for you help in teaching student doctors and postgraduates.
Do you understand that these images may be used in teaching student doctors and may be stored electronically for that purpose?
Do you consent to the images being used for research purposes and in the teaching of student doctors?
Do you consent to the images being used in educational publications aimed at medical students and qualified doctors?*
Do you consent to the images being used on password protected internet educational sites aimed at medical students and qualified doctors? *
Do you consent to the images being used in educational presentations aimed at qualified doctors by the pharmaceutical industry?
Do you understand that if you change your mind about the use of your images, we will do our best to respect your wishes?
Have you had an opportunity to ask for further information if you have any questions about this consent form?
* This means that you release the 'moral rights' - the contribution you have made to the film, for publication and that multiple copies can be made.